Product:  Drive Medical Nitro Euro Style Rollator Walker
Price:  $202.38 on Amazon
Features:  Stylish euro-style design in red | Lightweight | Compact | Sharp
My Rating:  

Drive Medical Nitro Euro Style Rollator Walker Overview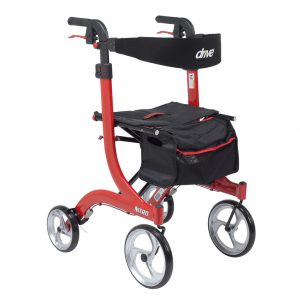 If you are afraid of looking like a "little old lady" or a feeble old man using a walker, here's something just for you.  The Drive Medical Nitro Euro Style Rollator Walker is a stylish option to the typical walker.  One customer referred to it as the little red corvette he never had.
Made of durable aluminum, this lightweight 4 wheel rollator from Drive Medical features an attractive, European style design that's sure to impress. The handles on this 4 wheel rollator are height adjustable, and have an ergonomic design for more comfort with less wrist strain. This Drive rollator has 10" front wheels that make it easy to traverse over most obstacles found both inside and outside. Also, the rollator features a cross-brace design that allows for both side-to-side folding and added stability. The backrest is flexible for more comfort, and it is also removable.
For more ease of use, the Nitro Rollator can be folded using only one hand due to the handle on the mesh seat. The Nitro Rollator comes with a front side removable carry pouch to help you take your belongings with you. The Nitro uses bicycle style brakes, and for added safety, the brake cable is inside the frame so it won't get caught on things. Limited lifetime warranty.
Please follow and like us: