The statistics are overwhelming
40% to 70% of family caregivers have clinically significant symptoms of depression with approximately a quarter to half of these caregivers meet the diagnostic criteria for major depression.
More than 1 in 10 (11%) of family caregivers report that caregiving has caused their physical health to deteriorate.
Family caregivers experiencing extreme stress have been shown to age prematurely. This level of stress can take as much as 10 years off a family caregiver's life.
And, the list goes on.
You need to care for yourself
If you are not staying healthy and caring for yourself first, you cannot be expected to care for your loved one.  Take it from someone who hit a breaking point before I even realized I was stressed.  I write about my experiences and hope you'll find something here to help you before you get to that point.
Here you will find articles on topics ranging from caregiver wellness, managing caregiver stress, and caregiver basics.  I throw in some humor and inspiration as well.
If you can't find what you are looking for, use the search tool on the right side of this page.
I wish you good health!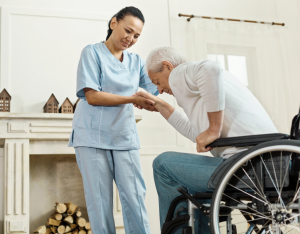 Getting out of bed in the morning, brushing your teeth, taking a shower, and eating breakfast are activities many of us do without giving a second thought. However, according to
Read More »