Updated May 21, 2021
My mother, Barbara, had MS and used a standing wheelchair for years.  She LOVED that wheelchair. When we were out in public, she would often ask me to stand her up (she had a manual standing chair) so that she could "show it off".  Take a look at my standing wheelchair reviews and see which is best for you.
What is a standing wheelchair
A standing wheelchair is a type of assistive technology that allows a wheelchair user to raise the chair from a seated to a standing position.  Sometimes called a stand up chair, it supports the person in an upright or standing position and enables them to interact with other people and objects at eye level.  So, let's take a look at some of the best standing wheelchairs.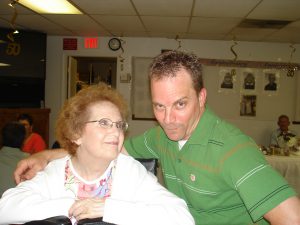 Standing wheelchairs are used by people with either paraplegia or quadriplegia.  There are different standing options available to accommodate persons with mild to severe disabilities including: spinal cord injury, spina bifida, muscular dystrophy, multiple sclerosis, stroke, rett syndrome, traumatic brain injury, cerebral palsy, post-polio syndrome and more.
The benefits of a standing wheelchair
The benefits of a standing wheelchair are many. For my mom, the main benefit was the ability to get off of her butt.  It gave her the ability to stretch, eliminated the chance of getting sores and improved the muscle tone in her legs.  She also had fewer urinary tract infections and less spasticity due to her MS.  
Other benefits include:
Being able to stand may increase independence and enhance employment and leisure opportunities
Standing wheelchair users find they have more energy, enhanced functional ability, and greater independence
Allows easy use of kitchen counters and appliances and access to overhead cabinets or grocery store shelves
From a physical wellness perspective, RESNA reports that more frequent standing can help maintain organ capacity, as well as reduce the occurrence of urinary tract infections and pressure sores.  We saw this benefit with my mother.
Improves blood circulation and muscle tone
Promotes kidney and bladder functioning
Improves quality of life
Reduces muscle contracture
Reduces bone decalcification and osteoporosis risk
Prevents and heals pressure sores
Types of standing wheelchairs
Manual Chair
With a manual chair, the mobility and lifting mechanisms are not powered.  My mom had a manual chair and they are very easy to move into the standing position.  The spring-action mechanism offsets the person's weight and the chair can easily be lifted.  Some people with limited upper body mobility may have difficulty adjusting the chair to the standing position.
Half-power 
This chair features powered mobility but manual lifting mechanisms.  The standard lightweight manual can be tricked-up with a small, powerful motor, affixed to the wheel units or attached to the base of the chair. When the assist is turned on, a forward push on the handrim gives the chair a strong boost.
Full-power 
This type of chair features powered mobility and hydraulic or otherwise powered lifting mechanisms.  A person who can't push may require a wheelchair or scooter powered by an electric motor and batteries and controlled by a joystick.
My top picks
Here are the two top standing chairs that I recommend. See below for a review of each one.
The Leo II Standing Wheelchair is the lightest standing wheelchair in the world. Made of high grade aluminium alloy, it is not only stylish, but extremely durable.
The Karman XO-505 is the newest addition to the power standing wheelchair family. The state of the art XO-505 includes features that are unrivaled at its price point, and value.