A standing wheelchair is a type of assistive technology that allows a wheelchair user to raise the chair from a seated to a standing position.  Sometimes called a stand up chair, it supports the person in an upright or standing position and enables them to interact with other people and objects at eye level.  So, let's take a look at some of the best standing wheelchairs.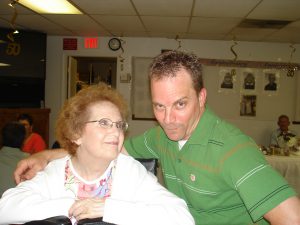 Standing wheelchairs are used by people with either paraplegia or quadriplegia.  There are different standing options available to accommodate persons with mild to severe disabilities including: spinal cord injury, spina bifida, muscular dystrophy, multiple sclerosis, stroke, rett syndrome, traumatic brain injury, cerebral palsy, post-polio syndrome and more.
My mother, Barbara, had MS and used a standing wheelchair for years.  She LOVED that wheelchair.  When we were out in public, she would often ask me to stand her up (she had a manual standing chair) so that she could "show it off".
Types of standing wheelchairs
Manual – Chair mobility and lifting mechanisms are not powered.
Half-power – Chair features powered mobility but manual lifting mechanisms.
Full-power – Chair features powered mobility and hydraulic or otherwise powered lifting mechanisms.
Paying for a standing wheelchair
It is possible that Medicare, or similar governmental agencies if you are outside of the U.S., may help pay for some of the cost of a standing wheelchair. In the U.S. Medicaid funding varies by state so check with your local Medicare office for more information.
In addition, some insurance companies, vocational rehabilitation organizations, and medical case managers are starting to fund standing wheelchairs because of the long-term health and quality of life benefits that come from passive standing.
The Benefits of a Standing Wheelchair
Being able to stand may increase independence and enhance employment and leisure opportunities.
Standing wheelchair users find they have more energy, enhanced functional ability, and greater independence.
Allows easy use of kitchen counters and appliances and access to overhead cabinets or grocery store shelves.
From a physical wellness perspective, RESNA reports that more frequent standing can help maintain organ capacity, as well as reduce the occurrence of urinary tract infections and pressure sores.  We saw this benefit with my mother.
Improves blood circulation and muscle tone
Promotes kidney and bladder functioning
Improves quality of life
Reduces muscle contracture
Reduces bone decalcification and osteoporosis risk
Prevents and heals pressure sores
Standing Wheelchair Reviews
Here are 3 standing chairs you may want to consider.  One is a full powered chair, the Karman XO-505 Power Standing Chair.  The second one is a Power Assisted Stand-Up Manual Wheelchair, the Karman XO-101.  And, the third is the EZ Lite Cruiser Deluxe DX12 Powerchair, which is compact and lightweight.
When it comes to standing devices, this chair is at the top of the food chain. It comes standard with a mid wheel drive, full sit to stand power function, power tilting and reclining feature, a full control display, ergonomic leg rest support cushion, extendable arm support, full support harness, and a new power hydraulic system.
Price: $12,950
Rating: 

The price is roughly a third of what the high-end standing chairs cost with similar features.
Features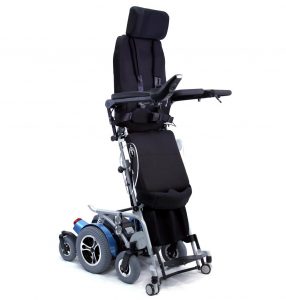 6061 T-6 Aircraft-grade Aluminum Frame
Full control LCD display
Full leg rest support cushion
Extendable arm/hand support bars on both sides
H-style Chest harness
Dual front LED headlights (Luxury Model)
Rear dual headlights w/ flashing feature (Luxury Model)
New powered hydraulic system
Full size frontal food tray (Optional)
Range per Charge: ~25 Miles
Easy To Use Joystick For Drive & Stand
USB support for mobile devices (optional)
Rear caster wheels
Power Reclining Feature
Power Tilting Feature
Mid wheel drive
Full sit to stand power function
Mounting frame for the seat cushion is 16 1/8, because the chair is designed for the seat cushion to rest above the seat frames
The EZ Lite Cruiser Deluxe DX12 (HD) Heavy Duty is composed of a very durable lightweight aluminum alloy, giving it a total weight of only 58 pounds, but being able to handle passengers weighing up to 330 pounds. The Heavy Duty Model also folds and unfolds very quickly and easily. Even with it's rugged rear wheels, it still folds to a small compact space.
Review:  

Good lightweight, folding chair for the price.
Features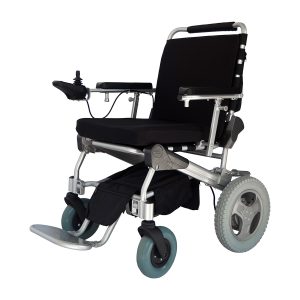 The EZ Lite Cruiser Deluxe DX 12 is a redesigned version of the Heavy Duty (HD)

Now with the Quickest and Easiest Folding & Unfolding action ever seen

Perfect for Outdoor Usage with Rugged 12″ Rear Wheels, and Works Great Indoors as well

Lithium Ion Battery Gets 10+ miles on a single charge. Connect two batteries for 20+ miles range

Made for Travel – Weighs only 58 Pounds (w/o Battery) or 64 Pounds (with Battery)

Lightweight & durable based on independent lab testing
Folds very quick & is extremely compact for storage
Tall 19.5″ semi recline back
Attach a second battery for double the driving distance
Joystick can be mounted on left or right arm rest
Arm rests can be raised for easy side access to the seat
Has a removable seat and seat cover for easy cleaning
Stands upright on the rear wheels when folded, no need to lean it
Has a handle under the seat for easy lifting from upright position
Has 4 wheels which makes it more stable than a 3 wheel scooter
Save money by not having to purchase a lift on your car
Significantly less expensive than older electric wheelchairs
Lots of great accessories available to customize your experience
Great price for what it does compared to others on the market.  Has many features as those that cost 5 times as much!
Price:  $6,500
Review:  

Well made and simple in design. One button control and very few parts to go bad.  Great for the price.
Features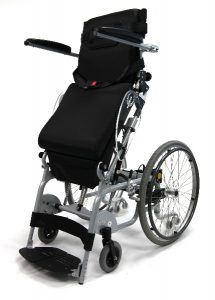 18 inch x18 inch Seat- Depth Adjustable

Lightweight Manual Propel, Power Standing Wheelchair

Weighs only 68 pounds

User operated power standing function

Flip Up Footplate, and Armrest

Full-length flip-back adjustable height armrests
Armrests are also rotating, concave and with a button on the right end
Anti-tippers come standard
Seatbelt included