The one question I get asked quite often is does Medicare cover home caregivers? While the simple answer is no, there are some exceptions. In this article I will talk about those exceptions and provide you with some other options available to help you pay for in-home care.
Skilled Care vs. Homemaker/Personal Care

Before we talk about what Medicare covers, I want to give you an overview of the difference between skilled care and homemaker or personal care. Depending on the type of in-home care you or your loved one needs, it may be covered by Medicare.
Skilled Nursing Care
Skilled nursing care is care that is provided by a registered nurse (RN) or a licensed practical nurse (LPN). The care may be provided in a skilled nursing facility or in the patient's home. Skilled nursing care is often necessary as a patient rehabilitates from an illness or injury, but the care provided is above and beyond that which can be provided by certified nursing assistants (CNAs) or home health aides.
This type of skilled home healthcare is provided by home health care agencies that are usually Medicare certified, state licensed and often accredited by an accreditation organization.
Homemaker / Personal Care
Homemaker services provide assistance to persons who are unable to perform one or more of the following activities of daily living (ADL's): preparing meals, shopping for personal items, managing money, using the telephone or doing light housework.
Personal care is a broad term used to describe the support given to someone who needs assistance with personal hygiene, toileting, and dressing. It can cover, but is not limited to: bathing and showering, including bed-baths.
What's Covered by Medicare
In order for Medicare to cover any of your home health care, it must fall in to the skilled nursing category. Eligible home health services under Medicare include:
Part-time or intermittent skilled nursing care
Medical social services
Part-time or intermittent home health aide services (personal hands-on care)
Injectible osteoporosis drugs for women
Usually, a home health care agency coordinates the services your doctor orders for you.
What's Not Covered by Medicare
Medicare does not pay for:
24-hour-a-day care at home
Meals delivered to your home
Homemaker services (like shopping, cleaning, and laundry), when this is the only care you need
Custodial or personal care (like bathing, dressing, or using the bathroom), when this is the only care you need
Other Options For Paying for In-Home Care
In my experience, most people looking for in-home caregivers are looking for someone to provide services that fall under the homemaker or personal care category. In this case, Medicare does not cover those services. However, there are other options out there for paying for in-home care.
Some of those options include: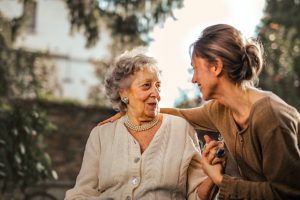 Medicaid
Veterans benefits
Long-term care insurance
Personal funds
Reverse mortgages
Respite grants
Life settlements
I wrote a couple articles recently that go in to more detail on each of these options. You may want to check out How To Pay For In-Home Care and States That Pay Family Caregivers. They will provide more details on how you might be able to pay for in-home care services for your loved one.
Concluding
I had clients who took advantage of many of the options for paying for home care when I had my agency. I'd be happy to answer any questions you have. Please feel free to leave a message below in the comments section and I will get right back to you. Thanks!
Please follow and like us: