Interviewing a caregiver to care for your loved one will be one of the most important interviews of your life.  You want to get this right and make sure you hire the best person for the job.  Whether you are hiring a private caregiver or using an in-home care agency these interview questions for a caregiver will help you identify whether the candidate is right for you and your family.
Hiring Should be Based on Ability NOT Personality
This is the first rule of a successful interview.  The most capable and qualified caregivers are not always the most relaxed in the interview. And some caregivers can be very charming and likable but fail to have the necessary abilies to perform the job.   Or worse, they have a lot of experience in caregiving but lack the compassion and integrity that you need in a caregiver. 
I found this to be true when I hired caregivers for my own in-home care agency.  Many of them had years of caregiving experience and seemed very qualified, but failed miserably when I dug in to questions about integrity and compassion.
My mantra is that I can teach caregiving but I can't teach someone to be compassionate or trustworthy.
Introduction to Behavioral Interviewing
Before we get in to the actual questions, I did want to give a brief overview of a concept called behavioral interviewing.
Studies show that the best indicator of future performance is past performance.  This is why it's important to use a technique called behavioral interviewing when asking questions of your prospective caregiver.  
The basic premise of behavioral interviewing is to ask the prospective caregiver to give you an example of a time where they exhibited a particular skill or behavior.  The question would be posed in this way…"Tell me about a time when you had a serious disagreement with someone".
By asking the question this way, you are forcing the caregiver to go back to a time when they actually had a serious disagreement with someone.  You want to understand what the situation was, how they handled it and what the outcome was.  It's that simple.  For every question you ask you are looking for 3 things.
1. Situation – ask them to describe the situation.  You will probably have to prompt them or ask probing questions in order to get specifics.
2. Behavior – next, you want to find out what they actually did (their behavior) to resolve the disagreement or solve the "situation" they described.
3. Outcome – finally, you want to understand how it turned out.  Were they able to de-escelate the problem or solve the disagreement in this example.
The Questions
Below is a list of questions specific to certain areas of caregiving.  Don't feel like you need to ask every question.  Pick and choose the questions that pertain to your loved one and your family's needs.  Tailor this to fit you.
1. Get to know the candidate
First, review the caregiver job description with them.
Tell me a little about yourself, how long have you lived in this area?
What are some of your hobbies and interests?
What kinds of jobs have you had in the past?
Which one did you like most? Why?
Which one did you like least? Why?
What caused you to apply for this Caregiver position?
2. What does the applicant know about working with seniors
Have you worked with seniors before? In what ways?
Tell me about two experiences you've had with elderly people.
Based on your experiences, what do you like most about older people.
What do you think a senior's greatest fears and concerns are?
What topics do you think seniors would enjoy talking about?
Do you think it's important to help seniors maintain as much of their daily routine as possible? Why?
What do they think the characteristics of a good Caregiver are?
Which of these characteristics do you feel you have?
Which ones do you feel you need to improve upon?
3. Discuss the candidate's experience and abilities on specific tasks 
Provide Companionship
Have you ever lived with or spent time around someone who is aging? Tell me about it.
Tell me some specific things you did to provide companionship to that person?
Did he/she enjoy your companionship? How do you know?
Are there things you might do differently if you were to do it again?
If we hire you, how would you go about providing companionship for the clients we assign you?
Provide Transportation
Do you have a reliable car?
Are you fully insured?
Tell me about your driving record.
Tell me about a time when you assisted someone with shopping, errands, and transportation.
Tell me about a time when you took someone shopping or to a doctor's appointment in an area you were unfamiliar with.  What did you do?"
Assist with light housekeeping and laundry
Tell me about your experience with managing a household, either your own or that of another person.
Tell me about how you organize these household tasks.
Are housekeeping and laundry things you do well?
Tell me about a time when you worked with a senior and noticed that things were not very clean or orderly in the household.   What did you do?
Preparing Meals
Tell me about your experience preparing meals for other people.
Do you consider yourself to be good at cooking?
Tell me about a time when you prepared meals for people who have special dietary need.
If you had to make dinner for a senior on a salt-restricted diet what would you do?
What is your favorite meal to prepare?
Provide medication reminders 
Tell me about your experience working with people who use or need consistent medications.
Have you ever been around people who have medical challenges that are or can be debilitating? Tell me about those experiences.
Is there any reason why you would feel inclined to do more than just remind someone of their medications? For instance, do you have a nursing, physical therapy, massage, homeopathy, or some other professional or healing background which you feel would compel you to do more than just remind people to take their medications as prescribed by their doctor?
Tell me how you have handled a medical emergency?  If you have not handled a medical emergency, tell me how you would handle one.
Provide other assistance where needed
Tell me about a time when you needed to monitor someone in the bath or shower for safety.
Tell me about a time when you assisted someone with dressing.
Tell me about a time when you had to provide overnight care for someone.
Dealing with difficult people
Tell me about a time when you worked with or have been around someone who was difficult to deal with.  How did you handle it?
4. How does the Caregiver feel about caregiving in general?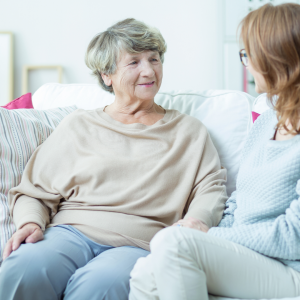 Many people think caregiving is a thankless job. What rewards have you received or think you will receive from caregiving?
Do you have any questions about care giving, and all that is involved in it?
What do you think you would like most and least about the job?
5. 
Determine the caregivers perspective on dependability
When someone assigns you a schedule, how conscientious are you in following it?
What emergencies would require you to call or change your work schedule?
6. Discuss logistics
What hours and days would you be available to work?
Would we be able to call you for emergencies or 'on call' situations?
Discuss pay requirements – what are you currently earning and/or what would you need in order to take this position?
7. Does the candidate have any issues that may interfere with job performance
Do you smoke and if so, can you work an entire shift without a cigarette so as not to smoke around our family member?
Have you ever had a communicable disease, for which you may now be a carrier such as tuberculosis, malaria, hepatitis, or other such disease?
If so, are you willing to provide a health certificate to prove you are clear of the disease?
If we hire you, we'll need to conduct a thorough criminal background check and drug test. Would that be a problem?
(Optional) Do you have experience working with someone with HIV?
(Optional) Do you have experience working with someone who is gay, lesbian, bisexual, or transgender?
8. Give the candidate the final word
Is there anything else that you feel I should know when evaluating whether or not to hire you?
What is your level of interest in us at this point?
(Explore any doubts or reservations the applicant might have.)
What thought would you like to leave me with?
9. Tell the candidate what to expect
We will be reviewing all applications and calling references over the next two days so you can expect to hear a decision from us by ______________________.
Shake hands and thank them for coming in today.
10.  After candidate leaves, write down your thoughts
If you are interviewing several candidates for the position it's good practice to write down your thoughts immediately after the interview.  This avoids getting one candidate confused with another if some time goes by.
Conclusion
Following a formal interview script with consistent questions and using the behavioral interviewing technique will greatly improve your chances of hiring the right caregiver for your loved one.
One last piece of advice I would give is to always listen to your gut or your intuition when interviewing someone.  If  you sense something, continue asking questions until you feel that you have the information you need.
As always, please leave a comment below or let me know if you have any questions.  I'm always interested in your caregiving journey!