The bathroom is the least safest room in the house and it is where the majority of falls and accidents occur among older adults. It is estimated that 1/3 of the population over age 65 fall each year and falls are the leading cause of death among older adults. In this article I will show you how to stay safe in the bathroom and what you can do to prevent falls and accidents from happening to you. Don't become a statistic!
Here are 9 simple things you can add to your home safety checklist and do now to improve your safety in the bathroom.
Shower & Bathtub Safety
---
Install Grab Bars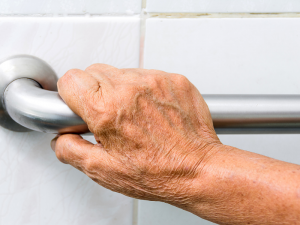 Grab bars are a must in the shower or tub and near the toilet. They provide two very important functions.
First, they give you something to grab on to when entering or exiting the tub or shower. Secondly, they give you something to grab on to in the event you do fall. They can also be used to help pull yourself up in the event you do fall.
A suction cup grab bar is good for temporary use or for traveling but, for thse who need long-term support,  installing a metal grab bar permanently is best.
Install Non-Slip Surfaces
Many falls are caused by slippery surfaces in the bathroom. I advise that you install non-slip surfaces on the shower or tub floor to prevent slipping. Rubber bath and shower mats are a must-have.
It's also advised that you put non-slip decals on the bathroom floor tile as they tend to get slippery from water and steam.
Finally, remove throw rugs from the floor as they are easy to slip on or trip over.
Use a Shower Chair / Transfer Bench
There are specially designed shower and tub chairs that allow you to sit while showering or bathing. It's a lot harder to fall if you're sitting down and it minimizes the risk of getting light-headed from the hot water.
Even if you decide to stand, the chair or bench is there to provide some stability if you need it.
Need help choosing the right shower chair/bench?
Prevent Hot Water Burns
Older adults tend to have thinner, more delicate skin and can get burned or scalded easily from hot water. Adjust your hot water to a maximum temperature of 120 degrees and make sure taps are labeled correctly.
Toilet Safety
---
Attach a Raised Toilet Seat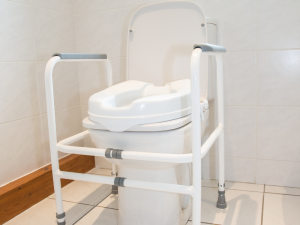 Being able to get on and off the toilet is important for independence and self-care. A raised toilet seat helps minimize the joint range of motion and overall strength you need to navigate the toilet. They also reduce the risk of over-exertion.
There are several types of raised toilet seats. Some come with arms attached to provide stability and support as you get on and off the toilet. Others are just the seat with added height. Choose what is right for your needs.
Use Toilet Safety Rails
Toilet safety rails provide added stability for toilet transfers. They come in different shapes and styles and, depending on where your toilet is located, can provide a lot more support than grab bars. Using both your legs and arms during the transfer process helps boost your available strength.
General safety tips for the bathroom
---
Improve Visibility
Being able to see where you are going is essential to safely navigating your bathroom. I've heard so many stories of people not wanting to turn on the light in the middle of the night for fear of "blinding" themselves. So, they stumble around in the dark. It's a recipe for disaster.
Make sure you have adequate lighting such as a night light or motion detector lights in the bathroom. Also, place night lights in the hallway or in the path to the bathroom. Use long-lasting LED bulbs to reduce the amount of burned out lights. Also, make sure light switches are easily accessible.
Remove Obstacles / Tripping Hazards
Removing obstacles or tripping hazards is a great way to decrease your risk of falling. This means getting rid of throw rugs and any other obstacle that might be in the way. Also, be aware of any pets you have in the house.
I got up the other night and stepped on my dog who was sleeping on the floor next to my bed. Luckily I fell back onto the bed but it could have been a different story if she were a few steps away.
Wear a Medical Alert Pendant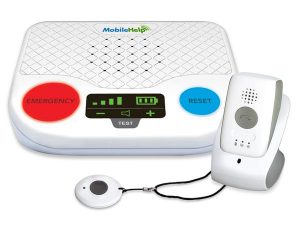 Since the majority of falls happen in the bathroom, it's critical that you are wearing a waterproof medical alert pendant or have access to a medical alert monitoring system. This way you will be able to call for help in the event that you do fall or have some sort of emergency.
In a matter of minutes help can be on the way. On the other hand, without a pendant, you could be on the bathroom floor for hours before you get the help you need.
Need help finding an affordable medical alert system?
Recommended for you
---
Please follow and like us: