As we age, we tend to lose some of our mobility. Even simple tasks like showering can pose a serious fall risk for seniors and people with mobility issues. A shower chair can provide much-needed stability while bathing and can significantly decrease the chance of falling. So, what is the best shower chair for you?
The answer to that depends on your physical condition as well as several other factors. In this article, I will show you what shower chair is the best for certain situations to help you decide the best option for you.
What is a shower chair?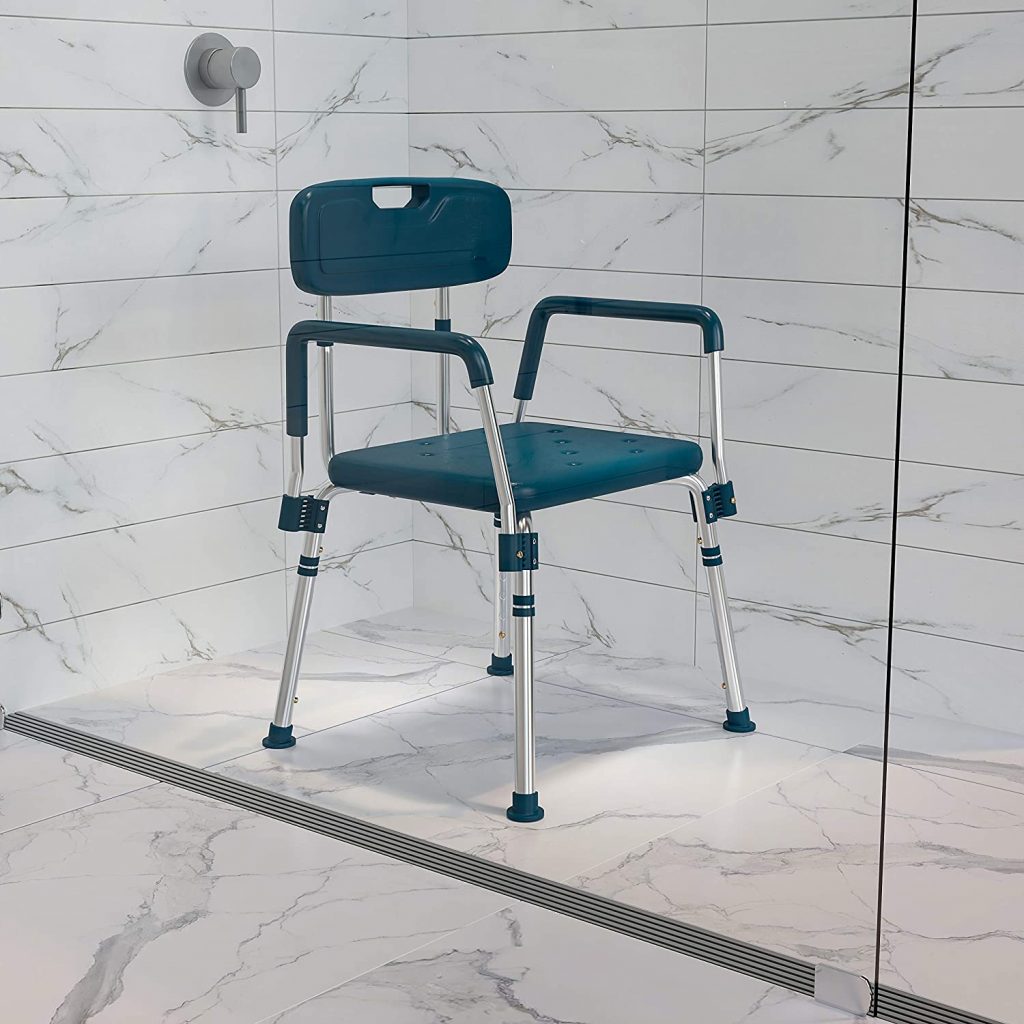 A shower chair is a portable chair or bench (although some can be permanently installed) that can be taken in and out of the shower. They give people a safe place to sit while taking a shower and make bathing easier for those with mobility issues or temporary disabilities.
They are made of lightweight material that does not get damaged in water such as plastic and aluminum. They are easy to clean and dry quickly. They typically consist of a plastic seat, aluminum legs and rubberized feet to keep from slipping.
There are several types of shower chairs for different needs. Take a look below to see which one is right for you.
Best shower chairs for getting in and out of the tub
For people with minimal mobility, simply getting in and out of the tub can be difficult. In this case a shower or transfer bench is the best option. This is a longer bench where one set of legs is placed inside the tub/shower and the other set is on the outside of the shower.
To use it, you just sit down on the seat before getting into the tub and gently slide over into the tub or shower. You can choose from a solid bench or one that has a sliding seat. Here are my top two picks.
Here are my top recommendations.
Carousel Sliding Shower Bench
This shower chair is a little more expensive than some other options but it's features and mechanisms are more advanced. It comes with a transfer bench and swivel chair that will facilitate an easy and safe transfer into and out of the shower.
Moen Safety Transfer Bench
The unique design of this transfer bench make is incredibly easy to get in and out of the shower or tub safely.  The leg design is innovative and it has an easy-grip support handle for stability. And, it is sturdy enough to support up to 400 pounds.
Best shower chairs for people with balance issues
The best shower chair for people with poor balance is one that has a back and/or arms that provide extra stability. They provide safety while seated and better grip when getting in and out of the shower or tub.
Here are my recommendations.