As we age, we tend to lose some of our mobility. Even simple tasks like showering can pose a serious fall risk for seniors and people with mobility issues. A shower chair can provide much-needed stability while bathing and can significantly decrease the chance of falling. So, what is the best shower chair for you?
The answer to that depends on your physical condition as well as several other factors. In this article, I will show you what shower chair is the best for certain situations to help you decide the best option for you.
What is a shower chair?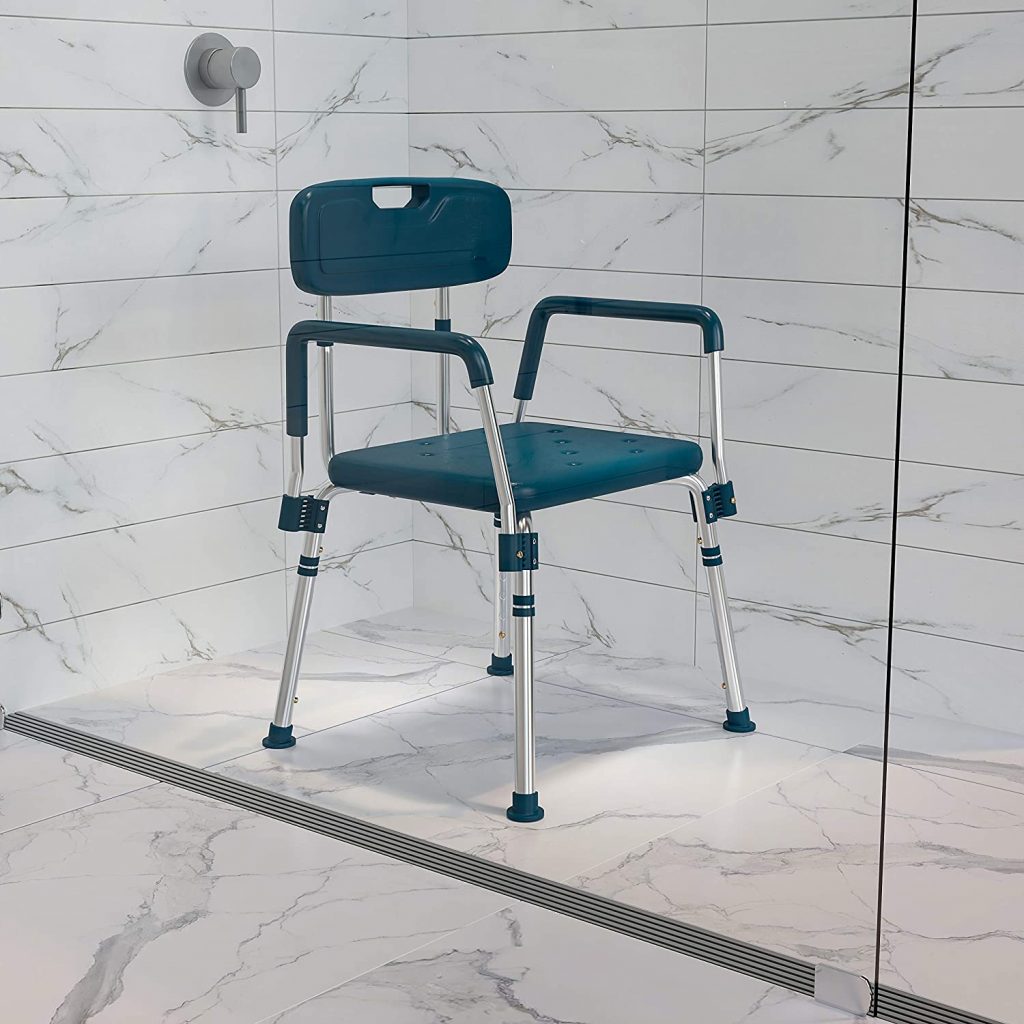 A shower chair is a portable chair or bench (although some can be permanently installed) that can be taken in and out of the shower. They give people a safe place to sit while taking a shower and make bathing easier for those with mobility issues or temporary disabilities.
They are made of lightweight material that does not get damaged in water such as plastic and aluminum. They are easy to clean and dry quickly. They typically consist of a plastic seat, aluminum legs and rubberized feet to keep from slipping.
There are several types of shower chairs for different needs. Take a look below to see which one is right for you.
Best shower chairs for getting in and out of the tub
For people with minimal mobility, simply getting in and out of the tub can be difficult. In this case a shower or transfer bench is the best option. This is a longer bench where one set of legs is placed inside the tub/shower and the other set is on the outside of the shower.
To use it, you just sit down on the seat before getting into the tub and gently slide over into the tub or shower. You can choose from a solid bench or one that has a sliding seat. Here are my top two picks.
Here are my top recommendations.
Carousel Sliding Shower Bench
This shower chair is a little more expensive than some other options but it's features and mechanisms are more advanced. It comes with a transfer bench and swivel chair that will facilitate an easy and safe transfer into and out of the shower.
Moen Safety Transfer Bench
The unique design of this transfer bench make is incredibly easy to get in and out of the shower or tub safely.  The leg design is innovative and it has an easy-grip support handle for stability. And, it is sturdy enough to support up to 400 pounds.
Best shower chairs for people with balance issues
The best shower chair for people with poor balance is one that has a back and/or arms that provide extra stability. They provide safety while seated and better grip when getting in and out of the shower or tub.
Here are my recommendations.
NOVA Medical Bath Seat With Arms
In addition to providing stability and support, this chair has a unique hygienic design that adds comfort and aids in cleaning. This chair also has flat feet instead of suction cups which is better in tubs with slanted sides or showers with textured floors. It is lightweight but holds up to 300 pounds.
The Medline shower chair gets great reviews on Amazon and has great features like padded armrests and back support, all for less than $50. The aluminum frame is adjustable and it has no-slip feet. This is a great all-around shower chair.
Best Shower chair for someone who just needs to take a rest….
Shower stools are best for someone with good balance and mobility but just wants to take a rest or sit down while showering. Shower stools are small and lightweight and many are foldable. They are easy to move in and out of the tub and don't take up much room when stored.
Here are my top recommendations for shower stools.
Moen Adjustable Tub and Shower Chair Stool
The non-slip bathtub seat is slightly curved with drain holes and built-in handles to help with balance. Made with high-impact polypropylene, it's robust, comfortable, and easy to clean.
Carex Swivel Shower Stool
The unique 360° rotating swivel seat makes it easier to maneuver around the shower. It is made from lightweight aluminum and has a storage area under the seat to keep items like soap and shampoo within reach.
Best shower chair for someone who needs assistance with bathing
There are a few shower chair options for people who need assistance bathing.
One option is a rolling shower chair with wheels where you can roll a loved one right into the shower. These are perfect for people with disabilities who need assistance bathing.
Another option is a simple bedside commode. I used this when I showered my mother and it worked like a charm. I just removed the commode bucket, put the commode in the shower and transferred my mom onto it. It has arms that provide stability when bathing your loved one.
Here are my top recommendations. 
DMI Rolling Shower Chair and Commode
Easily transport your loved one to and from the shower while giving them the comfort they deserve. This chair is also great for those recovering from surgery or injuries. It has a comfortable padded seat and armrests for added safety.
Drive Medical Steel Folding Frame Commode
A standard bedside commode can easily be used as a shower chair by removing the bucket.  It provides a back rest and arms for stability while you are showering your loved one. And, Drive Medical products get consistently high reviews.
Bottom line
Bathrooms are considered the #1 high-risk zone for falls in the home. This is especially true for older adults or those with mobility or balance issues. Fortunately, there are products out there like shower chairs, grab bars, and walk-in tubs that can make the bathroom and shower a much safer place.
Buying a shower chair is a fairly simple process once you understand what your needs are. There are several options available and once you figure out what features you want, the options narrow down quickly.
If you have any specific questions don't hesitate to leave a note in the comment section below and I'll be happy to help.
Please follow and like us: